Importance of Blue Light Forklift Safety
OSHA's regulation for Powered Industrial Trucks, §1910.178 (h)(2), states:
"[w]here general lighting is less than 2 lumens per square foot, auxiliary directional lighting shall be provided on the truck."
While §1910.178 standard does not specifically require flashing lights or back-up beepers, employers have a duty under the OSH Act, 29 U.S.C. § 654 (a)(1), also known as the General Duty Clause, to furnish employment and a place of employment, free from recognized hazards that are causing or a likely to cause death or serious physical harm to employees, where employees are exposed to hazards, including but not limited to, struck by, caught-in-between and crushing by the forklift.
B56.1-2009 shows that the industry recognizes this hazard and that equipping trucks with sound-producing and visual devices are feasible means to abate this hazard. An employer whose workplace presents this hazard and has not taken feasible steps to mitigate this hazard may be in violation of the General Duty Clause.
How Blue Lights Improve Forklift Truck  Safety
The notion of blue LED forklift safety lights initially gained traction in the United States around 2013, but it had been seen in other countries before then. These blue lights glide across the floor, approximately 15 feet in front of or behind the forklift, giving pedestrians and other traffic an improved visual warning. These blue lights drastically improve in-plant safety, yet each year more than 100,000 forklift accidents continued to occur. Many of these accidents are a result of poor communication at busy intersections and blind corners throughout the facility. The blue lights on forklifts only give a 1.7 second reaction time to those in its path, which isn't nearly enough time considering the speed at which these vehicles move. In response, Rite-Hite has developed two blue light communication devices to further enhance safety within the facility.
Blue Light Forklift Safety Products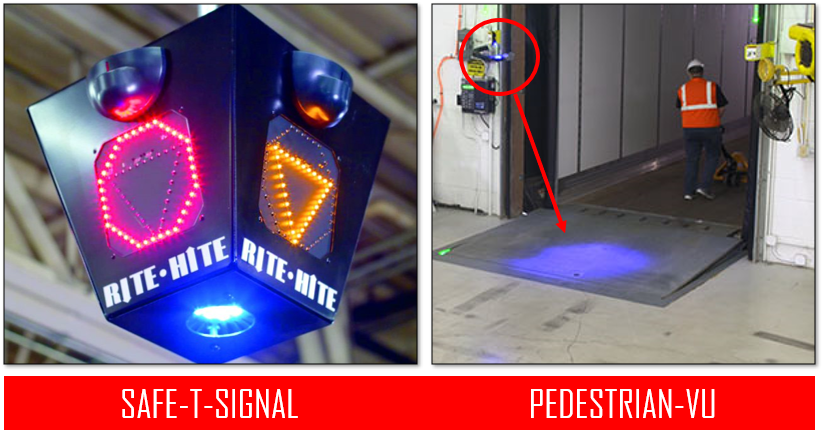 Rite-Hite Safe-T-Signal
Rite-Hite's ceiling mounted Safe-T-Signal, which detects traffic activity and displays an intense blue flashing light onto the intersection, is a great option for reducing forklift accidents inside the facility. This product provides pedestrians and other forklift drivers a larger window of warning, by alerting them to proceed with caution when the blue light is visible.
The Safe-T-Signal is available for 2-way, 3-way, and 4-way intersections. When oncoming traffic has been detected from one direction, all other directions not in the detection zone will be presented with a yellow "yield" triangle. When traffic is detected from two or more directions, directions with traffic will be presented with a red "stop sign" octagon and directions without traffic will be presented with yellow "yield" triangles, as well as a blue LED light illuminating the floor. Lastly, when traffic is detected from all directions, all directions will be presented with a red "stop sign" octagon and a blue LED light illuminating the floor. These features provide improved communication for everyone near blind-spotted intersections, which will greatly reduce the probability of an accident.
Rite-Hite Pedestrian-Vu
At the loading dock, another viable solution is Rite-Hite's Pedestrian-Vu. This can be used as a standalone unit or can be integrated with a Dok Lok Style Light Communication Box. Pedestrian-Vu helps detect activity inside of the trailer by utilizing sensors on each side of the dock door, which are aimed inside the back of the truck. If movement is detected, an intense blue flashing light projects onto the dock leveler as a signal to lifts and pedestrians, warning them to proceed with caution.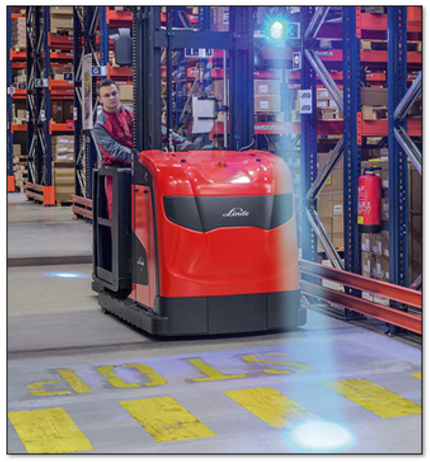 Learn more about improving warehouse safety with an effective blue light safety policy by contacting us today.