Since 1959, Johnson Equipment Company has taken pride in offering top-of-the line warehouse equipment and safety solutions to ensure your company's operations run efficiently and safely. Our company is proud to offer a full range of in-plant solutions guaranteed to maximize your facility space, protect your employees, minimize equipment and product damage, and associated monetary loss within your facility. These measures eliminate injury and loss both at your dock positions and on the floor of your operations.  Johnson Equipment's mission is to partner with you in order to protect your employees' health and well-being as well as maximize the potential of your facilities in order to ensure productive and well-managed workplace environments. As a result, our product line and mission go beyond safety and extend to improving your business' efficiency and productivity as well.
When it comes to preserving the cold-chain integrity of products in the distribution cycle, managing and controlling the climates of products is integral to your business and reputation. Regulatory agencies have been cracking down in recent years – especially the FDA with the implementation of the Food Safety Modernization Act (FSMA) in 2011, and the implementation of the 2017 FDA Food Code. The scrutiny of inspectors has become more and more strict, and this trend is set to continue into the foreseeable future.  Along with the increasing demands of regulatory agencies, consumer expectations have risen, and in today's competitive market it has become more important than ever to protect your company's product integrity and reputation. Although expectations for cold-chain integrity and food and beverage handling have risen, these expectations may be effectively met while also reducing the high costs of cooling cold-storage facilities by minimizing cooling loss and properly separating and controlling environments within your facility.
Cold Storage Solutions
FasTrax™ FR Highspeed Door
We are proud to offer a line of high-speed cold storage doors, adaptable to a variety of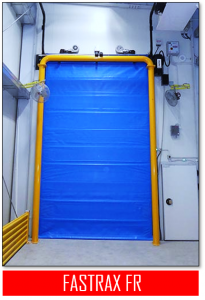 different applications and configurations – doors which effectively separate and control environments within your warehouse, while enhancing the safety of both pedestrians and forklift drivers within your facility. As we like to say, "doors are meant to be closed." This means, especially in cold storage applications, doors must be shut as much as possible and as quickly as possible in order to cut operational costs of cooling, and to protect the integrity of products.
Our FasTrax™ FR Highspeed Door provides a perfect solution – insulating product and operating at high speeds, while improving safety and communications at access points within your facility. Like the rest of the FasTrax door line we offer, the FasTrax FR highspeed freezer door is constructed with a soft bottom-edge curtain and Soft Breakaway™ technology which leads the industry in allowing safe impactability. Additionally, the FasTrax™ FR leads the industry in operating speeds of up to 100'' per second – ensuring that even in busy traffic areas, your freezer environments are separated and controlled – providing energy savings from increased cooling efficiency while also protecting your products. The door's curtain system combines unique Thermal-Flex Sealing with the R-4 InsulMax curtain construction to ensure energy savings and efficiency in the most demanding applications. These doors' low-profile, versatile track design allows for track configurations to fit nearly all possible situations.
Barrier Glider™ Freezer Door
Another solution is our unique bi-parting Barrier Glider™ Freezer Door. Like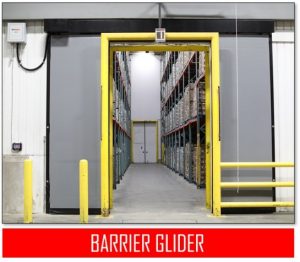 the FasTrax, the Barrier Glider™ is built with safe, impactable, auto-reversing technology. The impactable, 3'' insulated Iso-Tek™ door panels move at speeds up to 80'' per second, allowing the same high-speed access as the FasTrax, and maximizing time the door is sealed. Like the FasTrax FR, the Barrier Glider is equipped with a NEMA 4x GUI touchscreen control center which allows for easy and simple diagnostics, settings, and troubleshooting. The door can be configured with a variety of different customizable activation methods to best suit your space and traffic flow.
Implementation of our line of freezer doors is an easy, simple solution to improve safety, productivity, and efficiency within your facility – while supporting the cold-chain integrity of your operations. We would love to meet with you and learn more about your operations to understand your needs and find the best solution for your space. Using our Energy Savings calculator, we can give you a ROI calculation for your potential energy savings, and partner with you in determining the best course of action for your facility in protecting your cold-storage environments. As innovators in the industry, we have years of experience working with and satisfying our partner's needs. The possibilities are endless.
For more information about maximizing your energy consumption while improving efficiency and productivity within your facility, contact your local Johnson Equipment. We look forward to developing our business partnership and learning more about your operations in order to properly protect your personnel and assets.