Since 1959, Johnson Equipment Company has taken pride in offering top-of-the line warehouse equipment and safety solutions to ensure your company's operations run efficiently and safely. Our company is proud to offer a full range of in-plant safety and communication solutions guaranteed to minimize the risk of potential injury, equipment and product damage, and associated monetary loss within your facility. These measures eliminate injury and loss both at your dock positions, and on the floor of your operations. Our mission is to partner with you in order to protect your employees' health and well-being, as well as your company's assets. The warehouse is a risky environment, and your everyday operations are threatened by imminent disaster without the proper safety and communication measures.
Why is loading dock approach design important?
OSHA has identified semi-tractor trailers as the second leading cause of back over fatalities in the United States. Noise, Limited visibility, lack of communication, heavy equipment, and a push for productivity create a variety of hazards for people outside of the loading dock. Getting caught in or compressed by trucks or equipment costs $1.95 billion in U.S workers compensation each year.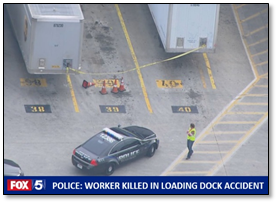 According to OSHA, the fatal injury rate for the warehousing industry is higher than the national average for all industries. Many of these fatalities occur at the loading dock. Though some companies claim to have a drive approach policy in place, with truck drivers, maintenance workers, sub-contractors, visitors, etc., it's impossible to keep all foot traffic away from the loading dock. Reasons someone might be in harm's way on the ground outside of the facility include opening trailer doors, chocking tires, lowering landing gear, placing trailer stands, and maintaining dock equipment.
Loading Dock Drive Approach Products
The Approach-Vu System
The Approach-Vu™ system from Rite-Hite is one solution to this problem. The Approach-Vu™ system is a module which integrates a motion sensor with a light and horn system to present a clear visual and audible warning to pedestrians in the drive approach when a backing vehicle is detected. The module is mounted on the center-line, above the exterior door opening. The lights and horn are mounted below the exterior dock door opening or in the vehicle restraint housing. Approach-Vu™ is focused on the safety of foot traffic outside of the facility. These light communication systems are integrated into Rite-Hite's Dok-Lok™ vehicle restraint line, but the Approach-Vu™ system may also be added as a standalone unit with a standalone control box.
The Lok-Vu System
Another safety solution is Rite-Hite's Lok-Vu™, which utilizes a single or dual outside camera view which is displayed inside. The single camera helps to confirm the dock restraint is securely engaged, while a dual camera configuration also helps to confirm a trailer stand's presence. Lok-Vu™ is mounted adjacent to or below the exterior dock door opening.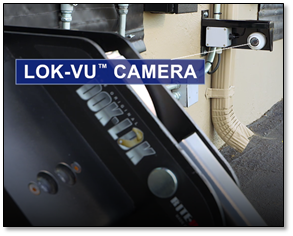 Through application of Rite-Hite's Approach-Vu™ and/or Lok-Vu™ systems, companies will greatly improve dock safety for those who may find themselves at the outside of the loading dock, thus reducing the risk for injury or death. Nearly 25% of all facility injuries occur at the loading dock. Many of these are due to trucks not being locked in properly or at all, allowing for movement of the truck (both intentionally and unintentionally) throughout the loading/unloading process. Rite-Hite's Approach-Vu™ and Lok-Vu™ systems gives workers inside the facility the ability to confirm the truck is properly secured before the process ever begins.
For more information on protecting your dock position, facility floor space, your employees, and company equipment – contact your local Johnson Equipment office. We look forward to developing a business partnership with you and learning more about your operations in order to properly protect your personnel and assets.