Upgrade your existing Dok-Lok Vehicle Restraints to maximize loading dock safety.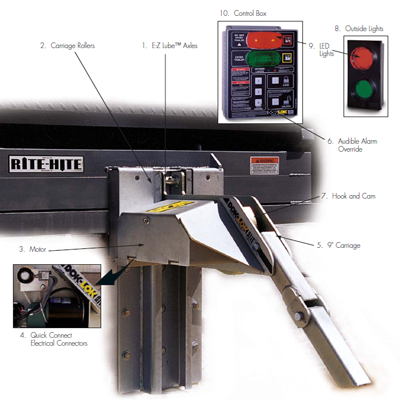 A commitment to design enhancements and performance improvements prompted the Dok-Lok Upgrade Program which allows customers to keep their loading docks current with trends in the trucking industry.
Ways to Upgrade Your Dok-Lok Vehicle Restraint
1. E-Z Lube Axles – Easily accessible grease zerk fittings allow for quick, efficient roller maintenance; minimizes maintenance time.
2. Carriage Rollers – Robust, fully enclosed roller design provides a more durable carriage roller for longer life.
3. Motor – Non-adjustable motor/clutch means no clutch adjustments while providing optimum torque to raise rotating hook.
4. Quick Connect Electrical Connectors – Water-tight connections minimize moisture and corrosion to vehicle restraint unit.
5. 9" Carriage – Articulating nose extension provides lowest clearance for trailers. Available for compound-decline approaches and/or yard jockey usage.
6. Audible Alarm Override – Allows a supervisor to override audible alarm when unusual hooking condition occurs. When in override mode, the outside lights flash red and the inside lights flash both red and green. Helps ensure accurate, reliable communication.
7. Hook and Cam – Replacement of Dok-Lok hook and cam to accommodate new NHSA regulations for RIGs, to allow safe service of nearly all types of trailers.
8. Outside Lights – Low-profile outside light box minimized damage to communication system from trailers backing in off center.
9. LED Lights – Inside LED lights provide a cooler burning light with less amp draw to greatly extend life of lights. Lowers maintenance costs and maximizes safety by ensuring lights are operating.
10. Control Box – Low-profile control box with Universal Restraint Controller provides greater flexibility for adding new features to vehicle restraint. Standard easy-touch, flush-mounted, touch-pad controls allow quick operation.
11. Dok-Commander Control System – Integrate all loading dock control components at each dock position to create the ultimate dock safety system. Single control center provides optimum safety and productivity.
12. Interlock/Interconnect – Multiple options based on customer application. Minimize potential for operator error while maximizing loading dock safety. Ensures safe, proper operating mode.
13. Rite-Vu Light Communication System – A complete forklift detection and Dok-Lok status notification system. It consists of three separate products, including: Corner-Vu, Leveler-Vu and Pedestrian-Vu.